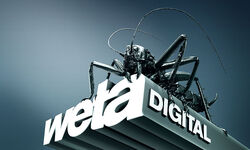 Weta Digital
is a digital visual effects company based in Wellington, New Zealand. It was founded by director
Peter Jackson
, Richard Taylor and Jamie Selkirk in 1993 to produce the digital special effects (the fantasy kingdom of 'Borovnia') for Jackson's breakthrough movie
Heavenly Creatures
(1994). Like other Jackson co-owned companies such as Weta Workshop, Weta Productions and Weta Collectibles, it is named after the weta insect native to New Zealand. The company continued to work on Jackson's films, culminating in the epic
Lord of the Rings
trilogy (2001-03), each of which won an
Academy Award
for Visual Effects. Joe Letteri, who joined Weta in 2001, was Senior Visual Effects Supervisor and became a Director of the company in 2007. Other notable productions featuring Weta effects have included
The Frightners
(with Michael J. Fox),
Van Helsing
(2004, with Hugh Jackman),
I, Robot
(2004, with Will Smith), Jackson's 2005 remake of
King Kong
(with Naomi Watts),
X-Men: The Last Stand
(2006, with Patrick Stewart),
Eragon
(2006, with Jermy Irons),
Fantastic Four: Rise of the Silver Surfer
(2007, with Jessica Alba),
The Chronicles of Narnia: Prince Caspian
(2008),
District 9
(2009),
James Cameron
's
Avatar
(2009),
The Adventures of Tintin: Secret of the Unicorn
(2011) and Jackson's two-part
The Hobbit
(2012-13).
King Kong
and
Avatar
also won Academy Awards for Weta's Visual Effects.
In May 2010 it was announced that Weta Digital would be creating CGI apes for the new Planet of the Apes reboot Rise of the Planet of the Apes, rather than using costumed actors in make-up as in previous films. Director Rupert Wyatt explained, "The other Apes films dealt with talking apes and apes that were humanoid in many ways. This film isn't about that. It's about apes as apes... We had a choice of using either live apes or CGI. Personally, I had moral problems with the idea of using chimps. And from a practical point of view it would be virtually impossible to get them to do what we need them to do within our schedule."[1] Producer Rick Jaffa agreed: "We knew it ultimately wouldn't be up to us, but we never thought in a million years they'd use real apes. Because in many ways, it's an animal rights story. You're not going to be able to get around that issue - the treatment of the animals."[2] In fact, it was reported that Wyatt wanted to send a message to other studios that in this day of advanced computer animation, there's no need to stress out real animals for filmmaking, and that Fox Studios was working with The Dian Fossey Gorilla Fund to draw awareness to animal experimentation in labs around the world.[3] Andy Serkis, who earlier provided the real-life movement and voice for the Weta digitally-rendered 25 foot gorilla 'Kong' in the 2005 remake of 'King Kong' and the Hobbit-like creature 'Sméagol/Gollum' in 'The Lord of the Rings' trilogy, both directed by Jackson, performed the same function for the film's central character, 'Caesar'. Andy Serkis filmed his role using a skin-tight CGI suit with markers allowing cameras to track and register 3D positions. The images were translated into the digital format by animators at Weta Digital studio and then edited into the movie. Location filming took place in British Columbia, Canada in July and August 2010, and the scheduled release date of August 2011 allowed the studio time to create and refine the visual effects.
Gallery
References
External Links
Community content is available under
CC-BY-SA
unless otherwise noted.