"If you mean what I think you mean, I think you are jumping to premature conclusions ....which may be correct."
"Up Above the World So High" was the final episode of the Planet of the Apes TV series. TV Guide lists its broadcast as the thirteenth episode of the series on December 6, 1974 (as reaffirmed by the Twentieth Century Fox DVD release), but the books Planet of the Apes As American Myth: Race, Politics, and Popular Culture (1996) and Planet of the Apes Revisited (2001) maintain that in some markets the 'lost' episode The Liberator was aired on that date as originally scheduled, with this following as the fourteenth and final episode broadcast on December 20, 1974.
Starring:
Guest Starring:
Production Crew
Assistant Director ... Gil Mandelik
Music ... Lalo Schifrin
Film Editor ... J. Frank O'Neill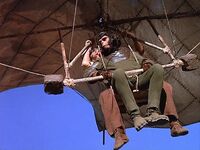 The group stumbles onto Leuric, a human attempting to fly by building himself a hang-glider. When he is captured, lady chimp scientist, Carsia, is sent by the High Council to investigate. Galen romances her, but is disturbed to find that she has an agenda all her own in wanting to make Leuric fly again.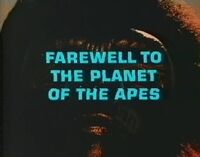 Galen used the alias 'Protus'.
The final episode to be broadcast (either 6 December or 20 December in the USA, 19 January 1975 in the UK), this was also the fourteenth and final episode filmed, chronologically, according to the Production Code.
Behind the Scenes
Edit
Ron Harper recalled: "A favorite spot was north of Malibu, on the Pacific Coast - the episode with the hang glider ('Up Above the World So High') and the shark episode ('Tomorrow's Tide') were shot over there."[1]
Stuntman Hubie Kerns jnr. recollected: "we shot that scene down south in Palos Verdes, which is by San Pedro - the seaport for Los Angeles. It involved Freddie Waugh and Dick Ziker - a keen hand-glider."[2]
External Links
Edit
References
Edit
---
Community content is available under
CC-BY-SA
unless otherwise noted.