"The Tyrant" is the eleventh episode of Planet of the Apes.
Starring:
Guest Starring:
Production Crew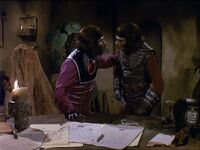 The fugitives are trying to foil the plans of corrupt gorilla official Aboro, who taxes humans brutally and is using bribery to get himself appointed as prefect over a district of human farmers. In a display of the political intrigue common amongst the apes, Galen masquerades as 'Octavio', Zaius' assistant, and tempts Aboro to try to take Urko's position. When Aboro seizes the opportunity and decides to go a step further and assassinate Urko, the fugitives are left with a serious ethical dilemma: be responsible in part for Urko's death, or take advantage of it for their own gain.
External Links
Edit
References
Edit
---
Community content is available under
CC-BY-SA
unless otherwise noted.