"The Liberator" was the thirteenth episode of the Planet of the Apes TV series. It was initially scheduled to air on December 6, 1974 in the United States, but was pre-empted by the fourteenth and final episode Up Above the World So High. However, the books Planet of the Apes As American Myth: Race, Politics, and Popular Culture (1996) and Planet of the Apes Revisited (2001) claim that CBS-TV records show it was broadcast in some markets, followed by the airing of the series finale on December 20. The Internet Movie Database (IMDb) gives this episode a US air date of 13 December 1974. In the UK this episode was broadcast on 12 January 1975.
Starring:
Guest Starring:
Production Crew
Assistant Director ... Bill Derwin
Music ... Lalo Schifrin
Film Editor ... Clay Bartels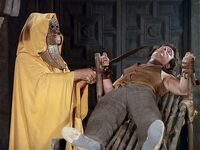 John Ireland stars as Brun, high priest of the village of Borak. Periodically five people from the village are turned over to the gorillas to work the mines; the villagers raid nearby human towns to seize prisoners to turn over to the apes, in essence collaborating. Alan and Pete of course get captured and are readied to be turned over to the gorillas. In the midst of this is a temple that apparently has the power to kill offenders of the village's law.
Brun explained how the brutal tradition began in the village of Borak. Apes raided the village for human slaves and many were killed on both sides. An agreement was reached where the humans would provide five slaves twice a month during the Summer months for work in the mines.
The thirteenth episode to be broadcast (12 January 1975 in the UK), this was the seventh episode filmed, chronologically, according to the Production Code.
Behind the Scenes
Edit
Marvel Comics 'Planet of the Apes' UK Issue #29, 'Exclusive Interview with Marvin Paige'[1]
External Links
Edit
References
Edit
---