"The Deception" is the eighth episode of Planet of the Apes.
Starring:
Guest Starring:
Production Crew
Assistant Director ... Gil Mandelik
Music ... Lalo Schifrin
Film Editor ... Bill Martin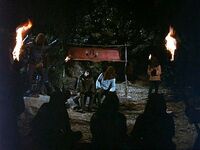 Lucian, father of the blind chimp Fauna (Jane Actman), has been killed by humans. A lynch-mob of apes, the Dragoons, terrorises the local humans, killing them and burning their homes. These maniac ape supremacists are infiltrated by Galen, leading to a certain unavoidable suspense. Fauna, in the meantime, is deceived to believe that the astronauts are apes, and she manages to fall in love with Pete, who needless to say does not return the favour.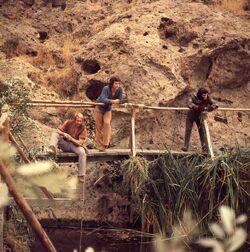 The eighth episode to be broadcast (1 November in the USA, 1 December in the UK), this was the tenth episode filmed, chronologically, according to the Production Code.[1]
Behind the Scenes
Edit
Ron Harper later recalled the scene in which Virdon and Burke try to break into Perdix' garrison: "There was a funny moment when we had to sneak into a gorilla guard house. Jim [Naughton] was supposed to whisper, 'No noise'. So Jim knocks out the gorilla with a judo chop and yells at the top of his lungs, 'No noise!' I cracked up and fell to the floor. I said, 'Jim, I think you've just defeated the purpose of your line!'"[2]
External Links
Edit
References
Edit
---