Dr. Stephanie "Stevie" Branton, a colleague of Dr. Lewis Dixon, was startled to discover the Ape visitors had the power of speech. Cornelius and Zira tell her that Taylor died, what they do to humans, and what will happen to Eath and it's destruction. She was shock and she handle it and understand why they need to keep a secret. She led the Apes into the wider world as they enjoyed a period of great fame and acclaim, before the reaction against what they represented. She risked her career to protect the Apes from extermination. When Cornelius and Zira were chased onto an old freighter Zira noticed a car pull up to the docks, and quickly identified the driver as Dr. Branton. When Zira was mortally wounded by a sniper, Dr. Branton watched in horror as the last activity Zira did was throw her baby overboard, unknowing that Armando clandestinely switched Zira's baby with an ordinary chimpanzee from his circus.
Notes
Appearances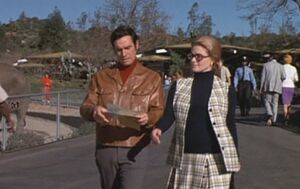 References
Community content is available under
CC-BY-SA
unless otherwise noted.