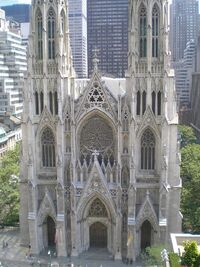 St. Patrick's Cathedral is a church in New York City. It is located on Fifth Avenue near Rockefeller Center.
Beneath the Planet of the Apes
When the nuclear holocaust began, New York City was devastated by the attack and St. Patrick's Cathedral was among the buildings that were destroyed. By 3979, the
mutated survivors
made St. Patrick's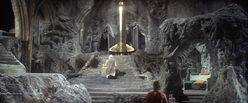 Cathedral their spiritual center. The crosses on the doors were turned upside down to form the Sign of the Bomb and standing at the altar was the
Alpha-Omega Bomb
, the
"Holy Weapon of Peace"
. That same year, an
ANSA
astronaut known as
Brent
arrived in search of one
Colonel George Taylor
. When the Gorilla Armada led by
Ursus
arrived, Taylor was shot and activated the
Alpha-Omega Bomb
, destroying the
Forbidden Zone
as well as the entire planet.
Notes
Barbra Streisand can be seen in the 1969 film Hello, Dolly! dancing in the plush 'Harmonia Gardens Restaurant', the set of which was sprayed with liberal amounts of polyurethane foam to become the mutant's 'Cathedral' in Beneath the Planet of the Apes.[1] Art director William Creber explained the process: "The church in 'Beneath' was purposely asymmetrical and off balance. That was a tough set, and I had a lot of help from many people on it. We used a standing set, the 'Harmonia Gardens' from 'Hello, Dolly!', and revamped it, spraying all over it with foam."[2]
See Also
Appearances
References
---
Community content is available under
CC-BY-SA
unless otherwise noted.