In William T. Quick's two novels detailing the aftermath of the Oberon's crash on the planet Ashlar, Jonathan was one of the central characters. He was the genetically-enhanced son of chimpanzees Pericles and Aspasia.
Biography
After Pericles had disappeared in the electromagnetic storm and the Oberon had crashed onto the nearby planet, surviving humans Grace Alexander and Molly Benavides decided to instil genetic improvements in the still-unborn foetus to improve the colony's chances of survival. The enhancements caused the death of Aspasia, but Jonathan was born safely and raised by Molly, who had recently given birth to a son, David, fathered by Leo Davidson before he too had disappeared in space.
While Jonathan and David were very close and saw each other as brothers, the status of apes in the new society was little more than that of slaves and soldiers in the fight against the planet's native lifeforms, which caused resentment from Jonathan. Secretly plotting a society of free apes, Jonathan waited until the native lifeforms (the 'Brax') had been defeated before launching a vicious slaughter of almost all the humans (in 2048). Molly, David, and a small group of others escaped, to become the ancestors of the humans Leo would encounter 3000 years later. Jonathan, meanwhile, rejected his human name and called himself Semos, an anagram of Moses. He kept the unfortunate Grace as a prisoner for many years.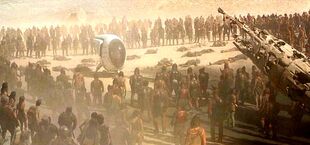 The ape colony faced as many challenges as the human colony had, and Semos' eventual fate is unknown, but he had a number of children including Thados and Zaius, who was the ancestor of Zaius, Thade, Thade's sister, Thade's Niece and Shiva. He became revered as the god of the apes and by the time Leo reappeared in 5021, apes like Attar would pray to Semos. When the ape army was fighting the mainly-human rebels led by Leo, the spacepod containing Pericles also reappeared. Believing Pericles to be Semos, returned from the dead, Attar and the ape soldiers put down their weapons when they saw the chimp run to Leo and embrace him.
Notes
Appearances
References