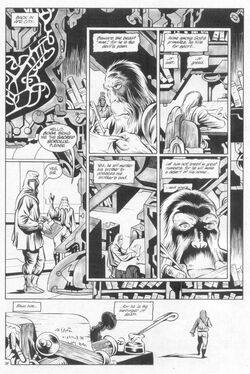 The Lawgiver was to the ape society a figure much like Moses, Confucius or Mao Zedong - his writings and quotes formed the basis of the apes' system of formal written laws and customs, particularly with regard to humans, whom the Lawgiver declared "the devil's spawn", to be shunned and driven out, if not destroyed outright. Statues of the Lawgiver were common around Ape City.
While the Lawgiver's 'Sacred Scrolls' were used and quoted daily by the apes, they weren't the only ape writings; secret scrolls told the details of the apes' rise to dominance, but were kept from the masses. Dr. Zaius, the Chief Defender of the Faith in the ape world some 1200 years after the Lawgiver, kept a copy of the Lawgiver's essential decrees in his coat pocket, but kept the secret scrolls under lock and key.
Malibu Graphics' Planet of the Apes comics, suggested that it was Jacob, son of Virgil, who wrote the highly damning passages of the Scrolls.
Trivia
The concept and name of the Sacred Scrolls were created by script-writer Michael Wilson.[1]
References