Roy Thomas (born November 22nd, 1940) is an American comic book writer and editor who has contributed material to both Marvel Comics and DC Comics. In addition to scripting flagship Marvel titles such as the Amazing Spider-Man, the Fantastic Four Star Wars, and Conan the Barbarian, Roy also served in the capacity of Editor-in-Chief from 1972-1974. It was Thomas who secured the rights, from 20th Century Fox, for Marvel to produce a Planet of the Apes Magazine based on the movie franchise. Thomas' friend Len Grow - who, at the time, worked in the Topps Chewing Gum Company - believed that, beyond traditional super-hero comics, an editor would have to invest in a regular science fiction title and suggested this to Thomas and, researching the rights to Planet of the Apes, supplied him with the number of Selwyn Rausch, who managed the commercial aspects of 20th Century Fox. Thomas contacted Selwyn Rausch, telling him Marvel wanted to publish a comic inspired by Planet of the Apes and its sequals. Marvel acquired the license, and the first of 29 issues of the magazine appeared on the shelves in the United States in August 1974.[1]
Thomas assigned first Gerry Conway, and then Doug Moench (who Thomas had hired in 1972) to script the Apes adaptations and original stories that featured in the magazine. Moench said: "Roy called me in and told me that Marvel had acquired the rights to Planet of the Apes. He said Gerry Conway was going to do it, but he had to drop out."[2] Conway (initially with Thomas) also wrote the early installments of Marvel's Killraven strips that would later be altered into an Apes story - 'Apeslayer' - for inclusion in the UK Planet of the Apes comic.
Bibliography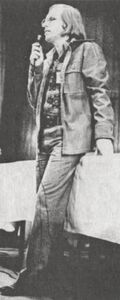 External Linkss
References
↑ Doug Moench interview, Comic Book Marketplace, May 1999
Community content is available under
CC-BY-SA
unless otherwise noted.