When Taylor makes his first escape attempt, he runs wildly through the Ape City museum. Here, he startles an adult female chimpanzee with a young male. The female chimp is heard to call the youngster "Quintus" (no name is mentioned in the script). Both chimps presumably perished when Taylor detonated the Alpha-Omega Bomb, which destroyed Earth (if not beforehand).
Notes
References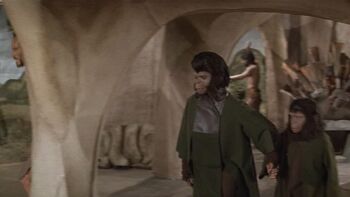 Community content is available under
CC-BY-SA
unless otherwise noted.