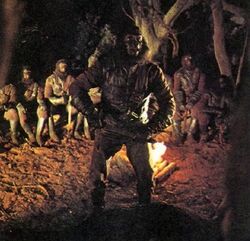 Power Play was a short story printed in Brown & Watson's 1977 'Planet of the Apes' Annual, featuring the characters from the Planet of the Apes TV series.
Zaius has formulated a plan to give some freedoms to humans, but must choose the right time to introduce his plan to the Council. However, his documents have been stolen from his office and he and his assistant Oris go on an expedition to find their location. Meanwhile, Zaius' chimp secretary, Mardik, has delivered the stolen documents to Narza, gorilla warden of a prison camp for humans. Mardik has, in turn, sent word to Urko, warning him of Zaius' plans. When Zaius reaches Narza's camp as part of his search he is arrested by Narza. Suddenly, Urko arrives to rescue Zaius. Later, Urko shows Zaius his document with forged extra paragraphs allowing complete freedom for the humans. Knowing this document would fool the Council, Zaius agrees to forget all his planned reforms for the time being.
External Links
Edit
Community content is available under
CC-BY-SA
unless otherwise noted.