Paul Williams is an American actor and singer/songwriter. He appeared in Battle for the Planet of the Apes, playing the intellectual orangutan Virgil.
Biography
Williams was born in Omaha, Nebraska, described as a "corrupted and erotic teddy bear".[1] Primarily known as a musician and songwriter, Williams' hugely successful song-writing career has included writing hits for The Carpenters, The Monkees, Three Dog Night and Helen Reddy. Williams has made numerous appearances as an actor, including roles in Smokey and the Bandit and Star Trek: Voyager, Phantom of the Paradise and Battle for the Planet of the Apes.
Planet of the Apes
Reporter Mike Jahn later recalled that in 1972... "I spoke with Paul Williams, the pop singer, who was filled with stories of the wonder of his first major acting assignment: playing an orangutan in the film 'Battle for the Planet of the Apes'. During the shooting, Mr. Williams rose at 3:30 a.m., then stayed in makeup for three hours. 
During one such session, the makeup man, Kenny Chase, began discussing at length the merits of what was the favorite drink of both of them, the margarita. 'He drove me crazy talking about margaritas', Mr. Williams said. 'By noon I couldn't take it any more. I was really freaked out. I grabbed Kenny and pulled him into my car'. The car was a 1935 Bugati, 'not an inconspicuous car in any case, but here is this Bugati driving down Pico Boulevard at lunchtime with an orangutan behind the wheel. We drove to the Casa Escabar and went inside. Kenny took me by the arm and went up to the maître d'. He asked him, 'Can we have a table in a dark corner? We want to be alone'.'"[2]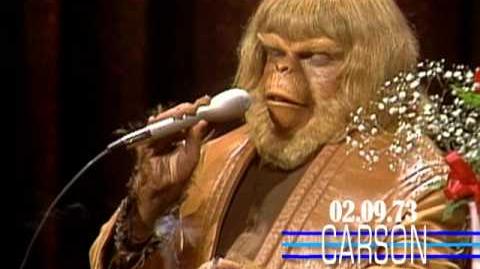 In 1973, Williams appeared on "The Tonight Show" in his Virgil makeup and costume, singing "Here's That Rainy Day".
External links
References
Community content is available under
CC-BY-SA
unless otherwise noted.