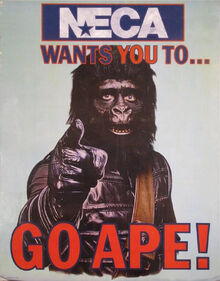 The National Entertainment Collectibles Association or NECA is an American manufacturer of collectibles typically licensed from films, video-games, sports, music, and television based in New Jersey. The company was founded in 1996 and has over 60 licenses for which it produces products.
In 2002, NECA's Reel Toys was formed as a division to produce action figures and dolls that are targeted towards action figure and toy enthusiasts. They are intended for teens and adults as collectibles for many licenses that no other company would market as a toy.
On September 14, 2009, they announced acquisition of the WizKids assets from Topps, for the collectible miniature Clix games and Pocketmodel games.
In a press release on January 21, 2014 NECA partnered with Twentieth Century Fox Consumer Products for a new merchandise program based on the beloved Planet of the Apes franchise, which is set to include new products based on the film DAWN OF THE PLANET OF THE APES as well as the classic movies. They became available on summer 2014, The program will include a wide assortment of collectible products designed to excite audiences of all ages such as action figures, giftware, apparel, accessories and more.
The new product lines were made available to coincide with the release of DAWN OF THE PLANET OF THE APES, and incorporated characters and elements from both the classic movies as well as the newest installment. Items feature fan-favorite characters Caesar, Koba, Maurice, Cornelius, Zaius (APJ), and the rest of the world's most well-known primates.
NECA Licenses
Gallery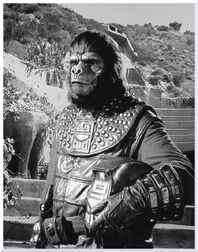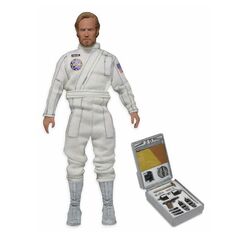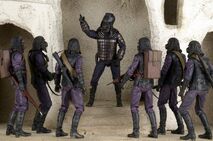 Community content is available under
CC-BY-SA
unless otherwise noted.