The Minister was an orangutan who lived in the East coast Ape City in the latter half of the 40th century. He was a high-ranking religious leader among the ape community, and was called upon to bless the gorilla army as it set off to conquer the Forbidden Zone.
Notes
The 2018 novel Death of the Planet of the Apes identifies this character as Sabian, Dr Zaius' predecessor as Chief Defender of the Faith and now High Patriarch of Ape City. The novel depicts his death during the destruction of Earth in January 3979.
Appearances
References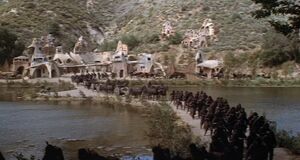 Community content is available under
CC-BY-SA
unless otherwise noted.