The Minister lived in the East coast Ape City in the latter half of the 40th century. In the year 3978, he presided over funeral services for a gorilla hunter. His sermon was interrupted by George Taylor who, having just escaped from captivity, briefly sought shelter inside the Minister's church. The Minister called out for the nearby guards to "get rid of the creature". While evading the pursuing gorillas, Taylor dashed past the Minister, nearly knocking him over. The Minister probably died a short time later when Taylor detonated the Alpha-Omega Bomb (if not before).
Notes
Appearances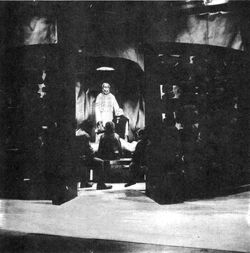 Community content is available under
CC-BY-SA
unless otherwise noted.