Doctor of Animal Psychology at Los Angeles Zoo, Lewis Dixon and Dr. Stephanie "Stevie" Branton were put in charge of the study of the ape astronauts who mysteriously appeared from space. He became a member of the Presidential Commission of Inquiry. Cornelius and Zira told him that Taylor had died, what they did to humans, and about the Earth's destruction. He was shocked, but he understood why they needed to keep their secrets. Horrified at the plot to wipe out the talking apes, he assisted their escape and arranged for circus owner Armando to look after their infant son in the event of their death.
After their deaths, it was unknown what happened to Lewis after both Conquest and Battle. But most likely died in between films during the human nuclear war.
Notes
Appearances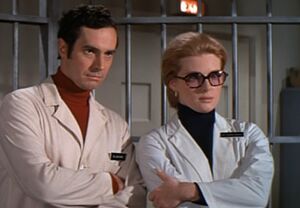 'The Book'
The revered holy book of the Taylorites turned out to be the journal of Dr Lewis Dixon. The information he recorded therein, the tales told to him by Zira and Cornelius about the Earth's future dominated by Apes, and about the arrival of the talking human Taylor, constituted a book of prophecy to the Taylorites. The promise of Taylor's return and his destruction of the Apes has become a cult and a religion among the rebellious humans and some human/ape hybrid 'Mud People'. Extracts from this sacred tome were published in Adventure Comics' Urchak's Folly, issue 3 (1991), by Gary Chaloner.
References
---