Vancouver-based actress Karin Konoval played the dual roles of orangutan Maurice and a human Court Clerk in the 2011 movie Rise of the Planet of the Apes and reprised the role of Maurice in Dawn of the Planet of the Apes. Konoval was born in Baltimore, Maryland. Her film and TV credits include The X-Files (1995-96), Millennium (1997-98), The Outer Limits (1998), Stargate SG-1 (2003), the lead role in the feature Cable Beach (2004, for which she received a Philip Borsos award), Scooby Doo 2: Monsters Unleashed (2004), the mini-series Tin Man (2007), Supernatural (2009) and 2012 (2009). She has also received numerous awards and nominations for her work in theatre, her writing has been published in various anthologies, literary magazines, and broadcast on CBC Radio, and her artwork has been exhibited in Vancouver.
For her role as Maurice, Karin spent time with two old male orangutans at the Los Angeles Zoo, and another named Towan at Woodland Park Zoo in Seattle. She learned to walk and run on the prosthetic arm stilts in a local park at dawn when there were few people around. Karin also wore 10 pound weights on each arm during sequences to sell the weight of her character in the performance capture.[1] Konoval confirmed that Maurice was based on "fiesty" Bruno, on Towan's "heart and soul" and on Clyde the walking orangutan.[2]
External Links
References
↑ Movie Apes Unmasked!, by Jim Nelson - 'National Enquirer' (28 July 2014)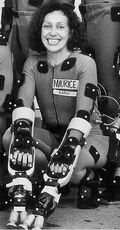 Community content is available under
CC-BY-SA
unless otherwise noted.