Jay Robinson is a New York-born actor featured on the Planet of the Apes television series. He appeared in the episode "Tomorrow's Tide" as Bandor.
Robinson met actor Basil Rathbone - who was playing 'Dr. Slooper' in The Heiress around 1947 - who encouraged his acting career, and began in summer stock theatre and repertory companies, appearing in the comedy Buy Me Blue Ribbons. He made his first Broadway stage appearance in The Shop at Sly Corner with Boris Karloff in 1949, followed by Shakespeare's As You Like It (with Ernest 'Dr. Pretorius' Thesiger) and Much Ado About Nothing. Robinson's first film role was as the insane Emperor Caligula in The Robe (1953), which he reprised in Demetrius and the Gladiators (1954). This was followed by roles in The Virgin Queen (1955, with Bette Davis), My Man Godfrey (1957, with David Niven and June Allyson), the Woody Allen comedy Everything You Always Wanted to Know About Sex* (*But Were Afraid to Ask) (1972) and as a dancing Dracula in the rock comedy Train Ride to Hollywood (1975).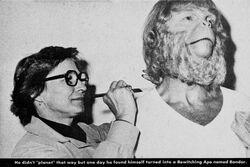 Aside from Planet of the Apes, Robinson's many television guest spots include The Wild Wild West, Star Trek ('Ambassador Petri' in "Elaan of Troyius"), Bewitched, Kolchak: The Night Stalker, Barney Miller, the title role in Sid & Marty Krofft's late 1970s Dr. Shrinker, Buck Rogers in the 25th Century, the soap opera Days of our Lives and as the host and narrator for the Discovery Channel special (and later series) Beyond Bizarre.
External Links
Community content is available under
CC-BY-SA
unless otherwise noted.