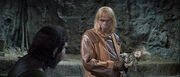 "MA-MA!"
―Human Doll
The Human Doll was a talking toy that was found amongst the archeological digs found by Dr Cornelius while exploring near the Forbidden Zone.
History
Normally the Forbidden Zone was a restricted zone to the ape society, but Dr Cornelius had been making expeditions to the caves nearest to the beach that lead to the Forbidden Zone. The doll was found in a weathered state from years of erosion but was remarkably recognisable as made in human image. Dr Zaius seemed to have thought nothing of it by explaining that his grandaughter played with dolls like this one, but Cornelius announced that the doll was discovered next to a human jaw bone with no trace of ape remains in the cave. But when the mute human female Nova examined the doll, she accidentally made it talk, catching everyone in the cave completely by surprise. This talking human doll evidently contradicted the Sacred Scrolls and ape beliefs that apes were the only species to speak. George Taylor took it in his stride while asking Dr Zaius: "Doctor Zaius, would an ape make a human doll that TALKS?". The doll was left behind in the cave and presumably buried in the cave when Zaius ordered it to be destroyed.
In Malibu Graphics' Planet of the Apes comics, it is suggested that this shoreline cave was inhabited by former astronaut August Anne Burrows and her human community.
Notes
The doll was likely modelled on a human child girl granting the tone of its voice and quote.