Heloise was a chimpanzee in the circus of Armando. She had been in the circus for seven years and had given birth two weeks before Zira gave birth - the first chimpanzee born in a circus, according to Armando. To ensure the safety of her child, Zira swapped her infant child with Salome, the daughter of Heloise.
Notes
Janos Prohaska, an expert in creating and acting in ape costumes, portrayed either Bobo or Heloise, or both.
The first draft screenplay had Heloise and Salome share their cage with 'Abelard'. Presumably named after the famous doomed twelfth-century lovers Abelard and Heloise, he would have been the father of Salome. Another cage would have held 'Nero', a troubled chimp whose brain was out-growing it's skull. He would be taken away (euthanized?) by the time police came to search the circus a few days later. [1]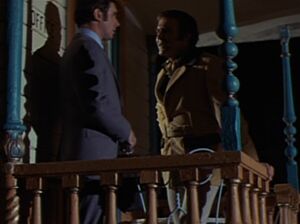 Appearances
References
Community content is available under
CC-BY-SA
unless otherwise noted.