The Gorilla in the Zoo was being cared for in the Los Angeles Zoo infirmary due to his depression in 1973. Agitated by the arguments of the newly-arrived Apes in the adjoining cage, Milo, Zira and Cornelius, the gorilla grabbed Milo by the throat and killed him. He was sedated and chained afterwards.
Notes
The gorilla was called Bobo in the novelization of Escape from the Planet of the Apes. Also known as Monstro, he was depressed because his mate at the zoo had died.[1]
Janos Prohaska, an expert in creating and acting in ape costumes, portrayed either Bobo or Heloise, or both.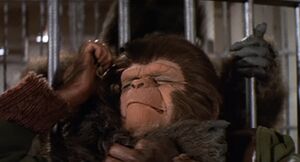 Appearances
References