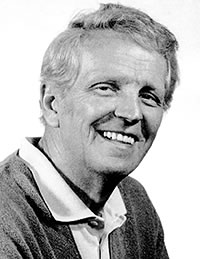 George Tuska (April 26, 1916 - October 16, 2009) was a comic book illustrator who contributed material for two Marvel Comics Planet of the Apes titles. The son of Russian immigrants, Tuska attended the National Academy of Design and went to work for Will Eisner, and for Harry "A" Chesler, before he was drafted into World War II and served in the 100th Division, drawing artillery plans.
Following the war, he achieved notoriety illustrating Crime Does Not Pay, a true-crime comic book with a monthly circulation of over one million copies. Next, George turned to newspaper comic strips, drawing first Scorchy Smith and later Buck Rogers. He also did some work for Tower Comics. In the mid-sixties, Tuska went to work for Stan Lee and Marvel Comics, working on Captain America, the Hulk, and the X-Men, before taking over the reins of Iron Man. Also while at Marvel, George illustrated one of the first African-American heroes, Luke Cage, and also illustrated (with Michael Esposito) an adaptation of the Planet of the Apes movie which was published in the Planet of the Apes Magazine and Adventures on the Planet of the Apes.
Tuska left Marvel in the late seventies to start The World's Greatest Superheroes newspaper strip for DC Comics. George later drew comic book stories for DC, including Green Lantern, World's Finest, and the Justice League of America. He retired from professional work in the mid-eighties, but continued to draw up until his death, illustrating commission requests for fans from all over the world.[1]
Bibliography
The following bibliography pertains to George's body of work as it relates to Planet of the Apes only.
External Links
References