Flight From Terror was a short story printed in Brown & Watson's 1977 'Planet of the Apes' Annual, featuring the characters from the Planet of the Apes TV series.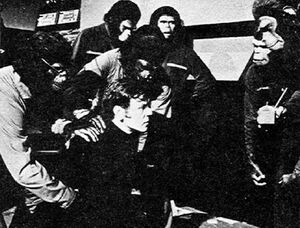 A group of chimps led by Jango, Menuas and his wife Caria are no longer able to tolerate the dominance of Central City by Urko and the gorillas. They decide to sneak out of the city, head for the human fishing port and hijack some fishing boats to take them to a new land. Initially following the coast, they are blown off-course by a storm and when they return to land they are arrested by intelligent humans with guns. They learn that this is Peru and that ape control only extends over North America. The humans have a city beyond anything the apes have ever seen before, and are ruthless in their efforts to know how well-armed the apes are, so they can re-conquer the planet. Jango is killed by his jailer, Pensward, but Menuas manages to steal a key and free the apes to return to their boats. They leave once again, unable either to stay or to return to Central City where Urko will punish them.
External Links
Edit
Community content is available under
CC-BY-SA
unless otherwise noted.