Estella "Tellie" Warren is a Canadian actress and model from Peterborough, Ontario. From the age of seven, Estella trained in synchronized swimming at the Etobicoke Olympium in Etobicoke, Toronto, Ontario, Canada. She held the title of Canadian National Champion, and was awarded second place in the World Aquatic Championship. By seventeen, she turned her attention towards modeling appearing in magazines such as Maxim, Vogue, Sports Illustrated and Vanity Fair.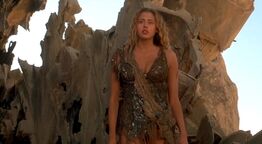 In 2001, movie director Tim Burton cast her in his re-imagining of Planet of the Apes where she played the role of Daena. Warren was granted the opportunity to show off her athletic talents in a scene where she dives into a brackish lake to help Mark Wahlberg's character, Captain Leo Davidson, recover items from his crashed space-pod. Warren received a Worst Actress Razzie Award for her work in the film.
Warren also appeared on the Planet of the Apes: Rule the Planet documentary and the Planet of the Apes feature on HBO's: First Look presentation.
External Links
---