Erlynn Mary Botelho is an actress who played numerous ape characters in four out of five of the original Planet of the Apes films. From an extended family which was frequently employed as movie extras, Erlynn first appeared in front of the camera at six months of age, and her first credit is as a child in Miss Sadie Thompson (1953). At a casting call with other members of her family in 1967, she was the first extra to be picked (Gabby Sasaki was the first male extra, both chosen to play chimps). Erlynn features in a number of early wardrobe test photos, dressed as a chimp nurse. With a slight costume alteration, she played the assistant to Dr. Galen in the completed movie. She also played the mother/minder of a young chimp named Quintus, both of whom were startled in the Ape City Museum by an escaping Taylor in the same film.[1]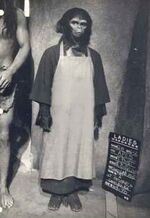 In Beneath the Planet of the Apes and Battle for the Planet of the Apes Erlynn played less prominent background apes, while Escape from the Planet of the Apes did not require any ape extras. In Conquest of the Planet of the Apes Erlynn played one of the multitude of chimps being trained by Ape Management and subsequently sold at public auction. In three of the Apes movies, Erlynn appeared with other family members including her younger sister Maxine (playing chimps), her brothers (three of them playing gorillas), and an uncle (playing an orangutan).[1] Erlynn Botelho plans to publish a book recounting her experiences of filming the Planet of the Apes movies.[2]
External Links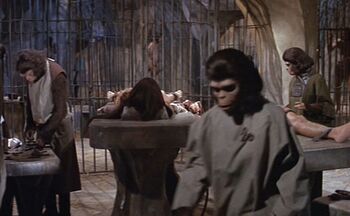 References
Community content is available under
CC-BY-SA
unless otherwise noted.