Emil Kosa Jr. was a Czech-French-American artist who worked on the original Planet of the Apes film.
Kosa was born in Paris, France, where his mother was a pianist for the Paris Opera and his Czech-born father, a painter, worked with Alphonse Mucha. In 1907 his family moved to the USA, eventually settling in Los Angeles. He studied at the Prague Academy of Fine Arts, the California Art Institute in Los Angeles and the Ecole des Beaux Arts in Paris before returning to Los Angeles in 1928. He then worked as a mural painter and designer for architectural and interior decoration firms and ran a business with his father producing decorative art objects for churches and auditoriums.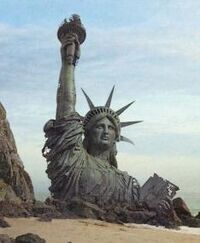 In 1933 Kosa became art director of the special effects department at the newly-formed '20th Century Pictures' and designed a distinctive Art Deco 'searchlight' logo for the movie studio. Two years later, 20th Century Pictures merged with Fox Film Corporation to become 20th Century Fox, and his slightly altered logo remains one of the most recognisable images of the movie industry. Kosa remained art director at the studio for a total of 35 years. He was the recipient of an Academy Award for Special Effects for his work on the 1963 film Cleopatra.
During 1967 Kosa completed a matte painting of a distressed Statue of Liberty for the concluding shot of the film Planet of the Apes. The shot was achieved with a very detailed painting on glass, with transparent areas through which the live action could be filmed, the extra-smooth glass surface permitting great detail without the surface grain of canvas or paper.[1][2][3] The image became one of the most iconic and best-known images from this genre and era of film-making and popular culture when the film hit theatres in early 1968. Emil Kosa Jr died just months after the successful film release.
External Links
References
↑ SFX on the Planet of the Apes, by James Glenn - 'Planet of the Apes' UK #95 (11 August 1976)
↑ Planet of the Apes: 40 Year Evolution, by Lee Pfeiffer & Dave Worrall (June 2008)