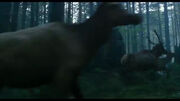 Elk or wapiti (Cervus canadensis) is one of the largest species of the Cervidae or deer family in the world, and one of the largest land mammals in North America and eastern Asia. It was long believed to be a subspecies of the European red deer (Cervus elaphus), but evidence from a number of mitochondrial DNA genetic studies beginning in 1998 indicate that the two are distinct species.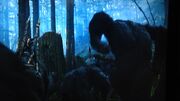 Due to the Simian Flu Pandemic, human kind had been drastically plummeted by 9 in 10. This allowed elk and pretty much every form of wildlife worldwide to thrive and expand without human interference. Huge herds of elk had began to spread and dominate the Muir Woods Park, where they became both prey and sport to the equally thriving colony of apes. The Evolved Apes worked together by stalking the elk through the tree tops before encircling them, pouncing on them, and throwing self made spears and bolas.
One elk was caught up in a bolas thrown by Caesar, where it lay panicking before Caesar and his son Blue Eyes accented to butcher their kill, but they were interrupted by an attacking grizzly bear. In the chaos of the attack, the elk made it's escape.
Elk kills were brought back to the Ape Village to be skinned and their antlers used as warning signs to any humans.