Stuntman and actor Christopher Gordon played the role of Koba in the 2011 movie Rise of the Planet of the Apes. Gordon, born in Arthabaska, Québec, had previously been a stunt performer in Dark Angel (2000), X2 (2003), Battlestar Galactica (2004), I, Robot (2004), Elektra (2005), Fantastic Four (2005), Underworld: Evolution (2006), X-Men: The Last Stand (2006), Night at the Museum (2006), X-Men Origins: Wolverine (2009), Night at the Museum: Battle of the Smithsonian (2009) and The Twilight Saga: Eclipse (2010).
External Links
Edit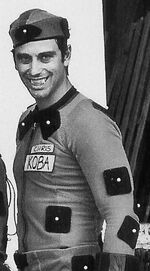 Community content is available under
CC-BY-SA
unless otherwise noted.