For the sequel the hit 1968 movie Planet of the Apes, Brooklyn-born film and television soundtrack composer Leonard Rosenman was appointed to compose the musical score. Rosenman, a concert composer, had earned his reputation with such film scores as East of Eden (1955), Rebel Without a Cause (1955), Hell Is For Heroes (1962) and Fantastic Voyage (1966), and theme music and incidental music for television series including The Twilight Zone (1959), Combat! (1962-1967), Garrison's Gorillas (1967-68, starring Ron Harper) and The Virginian (1967-69). Originally, the soundtrack for Beneath the Planet of the Apes was to be written by Jerry Goldsmith, who composed the music for the first Apes film and had already started work on the Beneath score, but director Franklin J. Schaffner convinced the studio heads at 20th Century Fox to pull Goldsmith from the project in favour of having him score Shaffner's then current film project, Patton. Goldsmith would return for the third Apes installment, Escape from the Planet of the Apes (1971), and Rosenman for the fifth, Battle for the Planet of the Apes (1973).[1]
Rosenman attempted to blend elements of Goldsmith's distinctive score for the first movie with his own style. As Film Score Monthly describes it, "the result bridges the alien soundscape Rosenman created for 'Fantastic Voyage' with the percussive barbarism always associated with the upside-down civilization of the ape planet. Rosenman's 'Beneath the Planet of the Apes' is as inventive and otherworldly as Goldsmith's original 'Apes' score, yet Rosenman's approach is in its way diametrically opposed to Goldsmith's; composed of vertically-stacked layers of sound, clanging, metallic effects, bristling, rambunctious chase music and a perverse, chaotic march for the ape army. Add to this some striking electronic effects and a bizarre choral mass written for the atomic bomb-worshipping mutants, and you have the recipe for one of the most original science fiction movie scores ever written."[2] An official Motion Picture Soundtrack LP was issued on the Amos Records label soon after the film's debut in 1970. Amos had been founded in 1968 in Los Angeles by producer Jimmy Bowen, but only issued records between 1969 and 1971.[3] For the LP, Rosenman was asked to rearrange his score for a smaller orchestra, adding contemporary elements such as electric guitar and rock percussion. These re-recorded pieces were interspersed with dialogue taken from the film. The soundtrack featured some of the leading LA studio musicians of the time, including bassist Carol Kaye and moog pioneer Paul Beaver. Amos also issued the LP versions of March Of The Apes and Mass Of The Holy Bomb as a 7" single in 1970 (Cat# AJB-145).[4]
Original LP Tracklist: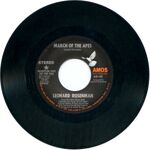 A1 Opening Statement: Cornelius *
A2 Main Title
A3 General Ursus' Address *
A4 Ape Fury
A5 Students: Peace & Freedom **
A6 Underground City
A7 Turkish Bath (Ursus And Zaius) *
A8 March Of The Apes
B1 The Chase
B2 Brent's Interrogation *
B3 Captured
B4 Mass Of The Holy Bomb **
B5 Doomsday *
(* Dialogue; ** Dialogue and Music)
Credits:
Composer/Conductor - Leonard Rosenman
Engineer - Eddie Brackett
Orchestra - Ralph Ferraro
Producer - Jimmy Bowen

In April 2000, Film Score Monthly released a single disc CD re-issue of the Beneath soundtrack through their Silver Age Classics series, as a limited run of 4000 copies (Cat# Vol. 3, No. 3). FSM restored the original score as heard in the film, including the electronic music and sound effects, and also included the complete arrangements and dialogue snippets from the original 1970 soundtrack LP. Film Score Monthly CD Tracklist:
01 Main Title (3:37)
02 The Grave (2:17)
03 Retrospect (0:25)
04 Nova and Taylor (2:46)
05 Exploring (1:16)
06 Narrow Escape (1:10)
07 No Place to Turn (0:28)
08 Captured (2:16)
09 Target Practice (1:32)
10 Second Escape (3:07)
11 Underground City (3:45)
12 Off to War (2:48)
13 Mind Boggler (2:12)
14 The Priest (0:49)
15 Ape Soldiers Advancing (3:45)
16 Ape Soldiers Continue (0:49)
17 Hail the Bomb (3:34)
18 A Mutant Dies (0:58)
19 The Ugly Bomb (2:08)
20 Mind-Control Sound Effects (4:09)
21 Nova Dies (damaged) (0:55)
22 Opening Statement: Cornelius (0:29)
23 Main Title (2:04)
24 General Ursus' Address (0:35)
25 Ape Fury / Students: Peace & Freedom / Underground City (4:16)
26 Turkish Bath (Ursus and Zaius) (1:15)
27 March of the Apes (2:59)
28 The Chase (3:31)
29 Brent's Interrogation (1:38)
30 Captured (2:31)
31 Mass of the Holy Bomb (5:40)
32 Doomsday (1:05)
Total time: 72:16 (Tracks 20 & 21: Bonus Tracks; Tracks 22-32: Original Soundtrack LP)
Notes
English script-writer Paul Dehn's earliest treatments for a sequel to Planet of the Apes - from September 1968 - already outlined his vision of a mutant congregation singing lyrics adapted from the Anglican hymn All Things Bright and Beautiful, originally written by Mrs. Cecil F. Alexander in 1848. Dehn included directions for the as-yet un-named composer in his script revisions, and specifically wanted his new lyrics to be used not as a parody, but to emphasise that the mutants genuinely regarded themselves as beautiful.[5] Dehn himself was also a writer of operettas and musicals. Rosenman's resulting composition, along with other fragments adapted from Anglican worship, featured in the original soundtrack LP under the name Mass of the Holy Bomb and in the 2000 CD issue as Hail the Bomb, but on-screen the mutant organist reads from sheet music entitled 'Psalm Mendez II'.
Trivia
Japanese musician Keigo Oyamada - who took his stage name 'Cornelius' in tribute to the Apes movies - issued an extremely rare box-set entitled Curiosity Killed the Ape in 2000. It included a 182 page book, a sono-disc (flexi-disc) player and a number of sono-discs. The track Taylor liberally used samples of music and dialogue taken from the original Beneath the Planet of the Apes LP, as well as samples of Lalo Schifrin's 1974 Ape's Shuffle single.[6] (See also: Music Of The Planet Of The Apes)
External Links
References