Beneath the Planet of the Apes
Through it's extensive line of Movie Comics film adaptations, Gold Key Comics released the first Planet of the Apes comic book ever published - a one issue, 32-page, adaptation of the first sequel, Beneath the Planet of the Apes. The December 1970 comic featured artwork by Alberto Giolitti with a photo cover and a four-page fold-out photo-insert 'Ape protest poster', and today stands as one of the rarest and most sought after Planet of the Apes collectibles.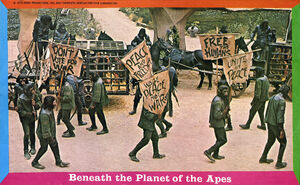 Synopsis
Cast of Characters

Locations

Items:

Synopsis:

Summary Needed
Editors are encouraged to submit a full summary under the Synopsis section. Once completed, please remove this tag from the page.
Notes
Related Articles
References
---