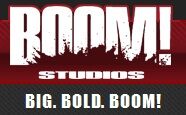 BOOM! Studios is a comic book division of Boom! Entertainment, Inc based out of Los Angeles, California. It was founded in 2005 by Ross Richie and Andrew Cosby, who had previously worked at Malibu Comics from 1993 to 1995 (shortly after that company had produced it's own Planet of the Apes line). They then pursued careers in feature films and worked with Dark Horse Comics. Immediately prior to BOOM!, Richie worked to re-launch Atomeka Press in 2004, while Cosby was the co-creator of the Sci-Fi Channel TV show Eureka.
BOOM! Studios specializes in a wide variety of different genres, including titles by writers Dan Abnett and Ian Edginton. In January 2008, BOOM! became the first comic book company to offer a digital download of a comic book on the day and date of its release, in partnership with MySpace. As a result, the issue sold out and went to second printing. Its youth imprint, BOOM Kids! (launched in 2009), has produced comic books based on Pixar's The Incredibles, Cars and Toy Story, as well as Disney's The Muppets, Donald Duck, Uncle Scrooge and Walt Disney's Comics and Stories.
In April 2011, the studio released the first issue of their Planet of the Apes series, with the first story arc titled The Long War, written by Daryl Gregory with art by Carlos Magno. In the run-up to the release of the movie Rise of the Planet of the Apes in August 2011, BOOM! issued a free online webcomic prequel to the film. In late 2011 BOOM! announced the beginning of a new re-print of Marvel's Terror on the Planet of the Apes to start in February 2012, even releasing cover images for the first four issues bearing their logo, but ultimately these plans were quietly dropped. Then in November of 2011 the studio released a four issue mini-series entitled Betrayal of the Planet of the Apes that was written and drawn by partners Corinna Bechko and Gabriel Hardman. From the same co-creators, Exile on the Planet of the Apes debuted in March 2012.[1]
BOOM! continued with tie-ins to the new movies Dawn of the Planet of the Apes and War for the Planet of the Apes, alongside crossover stories with Star Trek (2014), Tarzan (2016), Green Lantern (2017) and King Kong (2017). There was later a graphic novel based on Rod Serling's 1966 script for the first movie and a return to stories set in the classic film series universe.
Series
External Links
References