"Father of the Planet of the Apes!"
Arthur P. Jacobs was an American film producer based out of Los Angeles, California. Jacobs had always loved watching movies, and he made them with the same devotion and enthusiasm. Born in LA, after losing his father - Arthur - in a car accident and his mother - Natalie Ankle - to cancer, Jacobs majored in cinema at the University of Southern California in 1942. Starting as a messenger at MGM in 1943, he graduated to their publicity department before being lured to Warner Bros. as a publicist in 1946. In 1947 he left Warners to open his own public relations office and in 1956 he formed The Arthur P. Jacobs Co., Inc.[1] In the fast-paced environment of 1950s Hollywood, Jacobs' company was a significant player.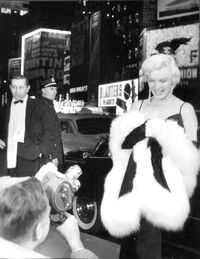 Among Jacobs clients as public relations press agent were Marilyn Monroe, James Stewart, Judy Garland, Marlene Dietrich, Gregory Peck, Grace Kelly, Richard Burton, Rock Hudson, David O. Selznick, American Airlines and the Principality of Monaco. Newspapers reported that Frank Goodman, formerly with the Richard Maney office, and Lois Weber, formerly with Rogers & Cowan, both joined the New York-based Eastern office of Arthur P. Jacobs in 1955.[2][3] Although Marilyn Monroe switched from Jacobs to the rival Rogers & Cowan firm in spring 1957, a merger of the two PR companies in July '57 - as 'Rogers, Cowan & Jacobs' - restored the previous arrangement.[4] The union seems to have broken up by 1959, and in 1962 a similar merger happened between Guy McElwaine Associates and Arthur P. Jacobs Co., as 'Jacobs, McElwaine & Springer' (John Springer had been director and vice-president of the Jacobs office in New York, and now became a partner). At the same time, Nadi Marculescu, vice-president in charge of Jacobs' Paris office for the previous nine years, renewed her contract with new firm.[5] Samuel J. Friedman served as Vice President of Jacobs Co. for a time,[6] and Marilyn Reiss also held an executive post sometime prior to 1966. As the president and major stockholder of his own film production company, APJAC Productions, from 1963,[1] Jacobs produced What a Way to Go! (1964, for Fox - initially a vehicle for Monroe before her 1962 death left the role to Shirley MacLaine), Doctor Doolittle (1967, for Fox), The Chairman (1969), Goodbye Mr. Chips (1969, for MGM), Play It Again, Sam (1970), Tom Sawyer (1973), Huckleberry Finn (1974), and, of course, all five original Planet of the Apes films (1968-1973):
The Planet of the Apes saga began with La Planète des singes, a 1963 novel by French author Pierre Boulle that combined speculative fiction adventure with Swiftian social satire. In 1963, the screen rights to Planet of the Apes were purchased by publicist-turned-producer Jacobs - a 'Final Production Information Guide' Jacobs used to promote his movie in 1968 claimed that he had purchased the movie rights "from the original French-language galley proofs prior to the novel's publication". [7] However, he presumably bought the rights from 'King Brothers Productions', who had already commissioned Twilight Zone screenwriter Rod Serling to complete a script treatment for the cinema. [8] Serling also seemed to remember that Blake Edwards, at one point before Jacobs' involvement, was interested in producing as well as directing the project by himself. [9]
Jacobs, interviewed in December 1971, recalled: "About six years ago, I was looking for material, and I would meet with various literary agents. I said, 'What I would like to find is something like King Kong.' I didn't want to make King Kong again, because you can't do that. About six months later, I was in Paris, and a literary agent called me, came over, and said he had a new novel by Françoise Sagan. I read it, and wasn't too fascinated. Then he said, 'Speaking of King Kong, I've got a thing here, and it's so far out, I don't think you can make it.' He told me the story, and I said, 'I'll buy it - gotta buy it.' He said, 'I think you're crazy, but okay.' So I bought it, and that's how it came about." [10] Associate producer Mort Abrahams similarly recalled, "In 1963, Arthur had gone to France and met with Alain Bernheim, who was a literary agent in Paris - and he was a friend of Arthur's - and he gave him the Pierre Boulle novel. Arthur read it and was immediately struck by it, called Richard Zanuck, who was, I believe, in London at the time. Arthur called him from Paris and gave him a kind of two-sentence description on the phone, and Zanuck said, 'I'll buy it for you'. And he did, he [optioned the rights] for Arthur. Zanuck was so intrigued with this thirty-second synopsis on the phone that he never really stopped to consider the problem of actually turning the book into a film."[11]
Initially working in partnership with British director J. Lee Thompson (at that time directing Jacobs' production debut What a Way to Go!), Jacobs began working to bring Planet of the Apes to the big screen. The process was long and difficult. He sent copies of the novel to film studios MGM, Paramount, United Artists and 20th Century Fox, and to Marlon Brando (star of A Streetcar Named Desire with Kim Hunter), who he hoped would agree to star. He wrote, "J. Lee Thompson and I have acquired the rights to make this film, and we think it is one of the most exciting projects and certainly the most unusual in many, many years... Due to the unusual and unique aspects of this film, it was our thought that prior to consummating a distribution deal, we first submit it to you for your reaction. You are, of course, the first actor to whom this property has been submitted, and Lee and I feel you will share our enthusiasm for what we think can be one of the most exciting films ever made... Our thought is that if the material excites you as it does us, it could then be put together in any manner which would best suit your needs... As the book is coming out shortly, we want to effect an immediate distribution arrangement, so if you have any interest whatsoever, I would greatly appreciate if you would cable me."[11] They wrote a five-page summary to sell the story to the studios: "'The Planet of the Apes' is a rip-roaring horror story - a classic thriller utilizing the best elements of 'King Kong', 'Frankenstein', 'Dr. Jekyll and Mr. Hyde', 'Things To Come', 'The Birds' and other film classics. The sole object in doing this is to entertain and thrill - and nothing more. We see this not as just a film, but rather as an attraction which will appeal to all ages and all audiences. Aimed for Spring or early Summer of 1964, we believe we will have an edge over two other large-scale productions, 'Brave New World' and 'The Martian Chronicles', which are somewhat in the same vein and scope as 'The Planet of the Apes'.
While the picture itself is the star and we plan to use good character actors for the principle parts, it is our conviction that utilizing a star for the part of Ulysse would greatly enhance the picture, lifting it above and beyond what conceivably might be thought of as an exploitation special. Our initial thinking is that Marlon Brando or Paul Newman or Burt Lancaster would be ideally suited for the role of Ulysse. There are several newer stars such as Steve McQueen, George Peppard, Rod Taylor, etc. who could probably do it, but we do not feel they would give it the prestige the picture should have. In regard to the casting of Nova, ideally this could be portrayed by Ursula Andress or possibly we could unleash an international search (as there is no language barrier) for the most fantastic beauty to be discovered for films.
Having thoroughly budgeted the book and our treatment of it, we have arrived at a figure of $957,600 below the line without overhead. Needless to say, we feel The Planet of the Apes can be the most exploitable, exciting and most talked-about motion picture of our time - a box-office bonanza!"[12] Jacobs also contracted artists to produce a series of concept and production sketches. By the end of the year, he believed that he was on the point of a deal with 20th Century Fox and Paul Newman (then filming What a Way to Go! for APJAC Productions), but the studio calculated the film would cost $2.5 million and decided it was too expensive. Thompson later reflected: "It was looking pretty grim at one time, so I very stupidly sold my share in the film back to Arthur" (Thompson would eventually direct the fourth and fifth Apes movies).[13] Jacobs carried on with screenwriter Rod Serling, with Blake Edwards slated to direct, and with the help of associate producer Mort Abrahams.
It was during these early stages of frequent script revisions that the idea for the famous ending to the movie was devised. Jacobs: "We were trying to make the audience believe it was another planet, which differs from Boulle's novel in which it WAS another planet. I thought that was rather predictable when we were doing the first screenplay. It's funny, I was having lunch with Blake Edwards, who at one point was going to direct it, at the Yugo Kosherarna Delicatessen in Burbank, across the street from Warner Brothers. I said to him at the time. 'It doesn't work, it's too predictable.' Then I said, 'What if he was on the earth the whole time and doesn't know it, and the audience doesn't know it.' Blake said, 'That's terrific. Let's get a hold of Rod.' As we walked out, after paying for the two ham sandwiches, we looked up, and there's this big Statue of Liberty on the wall of the delicatessen. We both looked at each other and said, 'Rosebud' (the key to the plot of 'Citizen Kane'). If we never had lunch in that delicatessen, I doubt that we would have had the Statue of Liberty as the end of the picture. I sent the finished script to Boulle, and he wrote back, saying he thought it was more inventive than his own ending, and wished that he had thought of it when he wrote the book." [10] Edwards himself claimed that he came up with the Statue of Liberty ending, together with former Disney artist Don Peters, stating "As I recall it was pretty much Don".[14] Don Peters, for his part, claimed that it was his idea alone, because he first introduced the ruined Statue of Liberty scenes to the Apes project when he did the original publicity paintings for Jacobs. [14]
However, the twist ending has also been attributed to Serling, who's experience writing for Twilight Zone gives his claim more credence. Mort Abrahams, who as associate producer was very involved in script revisions, said succinctly "That was Rod's ending". [15] When asked about the ending himself, Serling said variously: "The book's ending is what I wanted to use in the film, as much as I loved the idea of the Statue of Liberty. I always believed that was my idea." "That's very possible [that the ending was a combination of about four or five people thinking the same thing at about the same time].";[10] but also that it was "In collaboration with Jacobs. Yes, it was a wild cinematic scene." [9] In contrast to Jacobs' assertion, Boulle maintained: "I disliked somewhat, the ending that was used - the Statue of Liberty - which the critics seemed to like, but personally, I prefer my own. Since they decided to make the film, they picked this ending. They had that final scene in mind from the first day." [10]
Even with the involvement of Serling and Edwards, Warner Bros. estimated the budget would surpass $10 million (at a time when the average film cost $2.5 million) and turned the project down in January 1965. No one in Hollywood or in Europe was willing to risk that much money on a concept as unbelievable as a planet of talking apes. Edwards and Serling departed for other projects, and Jacobs' on-again, off-again Ape film was shopped around and rejected by the studios for years. "I spent about three and a half years of everyone refusing to make the movie. First, I had sketches made, and went through six sets of artists to get the concept, but none of them were right. Finally, I hit on a seventh one, and said that's how it should look. Then, I showed the sketches to the studios, and they said, 'No way.' Then, I got Rod Serling to do the screenplay, and went to everybody again - absolute turndown. I even went to J. Arthur Rank in England, and Samuel Bronston in Spain. Everyone said no." [10]
Eventually the tenacious Jacobs secured actor Charlton Heston (who regarded Jacobs as a "difficult and slippery a character to deal with"[16]), and, on Heston's recommendation, director Franklin J. Schaffner (later director of Oscar-winning Patton). Jacob's APJAC productions brought the budget estimate down to $5.8 million and produced a screen test starring Heston as astronaut Thomas and Edward G. Robinson as the orangutan Doctor Zaius. The test utilized paintings to depict major scenes which led up to the filmed confrontation between Heston and Robinson, which was written by Serling and directed by Schaffner. "I figured, maybe if I got an actor involved, and I went to Charlton Heston who, in one hour, said yes. Then Heston suggested Franklin Schaffner as director, and he also said yes. Now I have Heston, Schaffner, a screenplay, and all the sketches, I go right back to everybody, and I finally convinced Richard D. Zanuck to let me make a test, and I got Heston and Edward G. Robinson, with Schaffner directing it. I showed it to Zanuck, who really got excited over it. Rod Serling wrote a long, nine-page scene, a conversation between Taylor and Dr. Zaius, which was condensed in the final film. Everyone thought that no one would believe an ape talking to a man, and I said, 'I will prove to you that they will believe it.' We packed the screening room with everyone we could get a hold of, and Zanuck said, 'If they start laughing, forget it.' Nobody laughed, they sat there tense, and he said, 'Make the picture'." [10] The minifilm proved to the head of 20th Century Fox as well as to it's executives that talking apes would not evoke unwanted laughs and Zanuck gave Jacobs the green light.
Jacobs' Doctor Doolittle was in preproduction for Fox during this time, and when filming began on Apes he was still supervising editing on the expensive flop movie which received it's world premier before Queen Elizabeth II at the London Odeon on 12 December 1967. Just two months later, the phenomenal success of Planet of the Apes led to plans for a follow-up: "We didn't plan any sequel in the first one, but it became so successful that Fox said you must do a sequel, if you can come up with one. First I went to Pierre Boulle to write the screenplay. He said he didn't know how one makes one, then when I showed him a print of the first one, he was just absolutely ecstatic. He did write a treatment for a sequel, titled 'Planet of the Men', but it wasn't cinematic. Then, I went to Paul Dehn and Mort Abrahams in London, and spent about two weeks, walking and walking, trying to figure out where to go from the Statue of Liberty. Of course, in that second one, we blew up the world, and said that's the end of the sequels." [10] In fact, a further three sequels were made after they blew up the world, making Planet of the Apes one of the most remarkable movie series in cinematic history, and a precursor to the massive sci-fi movie industry that developed during the 1970's and beyond.
Arthur first met movie star Natalie Trundy on the set of the 1957 film The Monte Carlo Story, where he was the PR agent of her co-star Marlene Dietrich (the two actresses had a public falling-out during filming). Enchanted by the teenage actress, but almost twenty years her senior, he told her mother, "When she grows up, I'm going to marry her". Trundy has claimed that she was attending a Henry Mancini Orchestra concert in the Hollywood Bowl with Jacobs on August 4th, 1962, when he heard the news that his star client Marilyn Monroe had died,[17] but by 1963 they had gone their separate ways.[18] He would not see her again until a chance encounter in London in 1966, where she was living with a roommate named Vanessa and Vanessa's son James, after a serious car accident had prompted a temporary break from her acting career. Vanessa was working in Jacobs' London office, and recognized Jacobs sitting alone at a table in the Playboy Club one night. He was in England for the filming of Doctor Doolittle. Arthur's face lit up at the mention of Natalie's name and he said, "She is the only girl I ever wanted to marry". After an intense whirlwind courtship, they were married in a society wedding in London in 1968 (either May 5 or June 8)[18][1] - a gala occasion attended by Hollywood royalty as well as London's elite.[19] Natalie Trundy appeared in four of the five POTA films playing three different characters. Speaking on the set of Conquest of the Planet of the Apes in February 1972, Trundy told a reporter of the intense interest her producer-husband had always had in fantasy and science-fiction, both in literature and in film, and of the vast book and film library and collection of memorabilia he had amassed over the years, making their home a veritable museum of fantastic artifacts.[20] Arthur P. Jacobs died of a sudden heart attack less than two weeks after the final Apes movie premiered, aged only 51. He was working on a number of projects at the time; he had just made a pilot for a TV series revival of Topper Returns starring Roddy McDowall, Stefanie Powers and John Randolph; he was producing a musical adaptation of Mark Twain's Huckleberry Finn directed by J. Lee Thompson; he was developing a Planet of the Apes TV series; and he was planning a full-length science fiction feature called Voyage of the Oceanauts.[21] APJAC had also optioned the film rights to adapt the 1965 Frank Herbert novel Dune in Summer 1971. It was delayed while Jacobs completed other projects, such as the Apes films, but David Lean and Charles Jarrott were considered as director and Robert Bolt, Robert Greenhut and Rospo Pallenberg as screenwriter. Filming was scheduled to begin in 1974 with a $15 million budget, and storyboards, set design and other pre-production work began, but with Jacobs death the project was abandoned and in December 1974 a French consortium purchased the movie rights from Jacobs' estate.[22] Natalie Trundy, who was filming Huckleberry Finn on location in Mississippi when she received the news that her husband had passed away, later reflected, "Arthur was very, very tough, but everybody loved him. He was always there, he was always on the set, I tell you. The man worked 29 hours eight days a week, he was with everything, all the time. He was just wonderful, an extraordinary man."[23] Shortly after his death, Marvel Comics' Planet of the Apes Magazine declared that "to Arthur P. Jacobs must pass the title "Father of the Planet of the Apes"!"[24] When asked if he was concerned about the critic's response to his films, Jacobs had had this to say: "I have learned not to worry about reviews. Where I'm concerned is that people see the picture. If people see it and like it, that makes me happy."[10]
Trivia
Aside from the Apes series of films, Jacobs used at least one real life simian in each of his 20th Century Fox pictures up to 1973. In his first production, What a Way to Go!, a talented chimpanzee was shown painting a picture in a Paris studio. In Doctor Doolittle, Rex Harrison had a chimp for a confidant. And in The Chairman, an ape was seen in the palace of a Chinese official.[25]
External Links
References