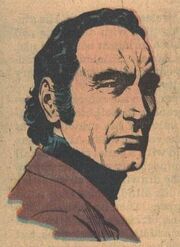 Alberto Giolitti (November 14, 1923 - April 15, 1993) was an Italian-American comic book artist. He was born in Rome, and started working for the magazine 'Il Vittorioso' in the late 1930s. In 1943, he drew his first comic, I Sensa Paura. After World War II, Giolitti moved to Argentina, where he produced police stories and novel adaptations, including Quo Vadis?. He emigrated to the United States in 1949, where he began a collaboration with Dell/Western Publishing. There, he produced art for The Challenge of Zorro, Indian Chief, Cisko Kid, Tonto, Tarzan, Sergeant Preston, Abraham Lincoln Life and the Four Color Comics series. He also illustrated comic adaptations of television series like Lone Ranger's Famous Horse Hi-Yo Silver, Gunsmoke, Tom Bell, Tales of Wells Fargo, Have Gun Will Travel and Boris Karloff and films like Alexander the Great, Aladdin and the Marvellous Lamp and Gulliver's Travels.
After having obtained American citizenship, in 1960 Giolitti returned to Italy, but continued to collaborate with Western and other US and British publishers, drawing Turok, Son of Stone for the American market. In Rome he established Studio Giolitti, which consisted of about 55 comics artists, who provided erotic comics for magazines of the publishing house Edipériodicci, but also produced hundreds of pages a month for national and international publishers, including popular titles like Super Black, The Phantom, Mandrake and Flash Gordon. In the UK, Giolitti's studios worked with publishing house IPC, where they did Jackie and the Wild Boy in 'Princess-Tina', The Fiery Furnaces in 'Tiger' and 'Hurricane', Flame of the Forest in 'Lion' and Enchanted Isle in 'Tammy'. In Germany, they took over the artwork of Reno Kid in 'Lasso', and produced stories with Perry Rhodan and Buffalo Bill. For the US market, they drew comics with Warner Bros characters, and several series for Dell and Gold Key Comics, such as Freedom Agent, Twilight Zone, Lord Jim, Tarzan, Star Trek, a King Kong adaptation', stories for Ripley's Believe It or Not, Laredo, Voyage to the Bottom of the Sea, Cowboy in Africa, etc. In December 1970 Gold Key published Giolitti's adaptation of Beneath the Planet of the Apes - just a few months after it's theatrical release - which was not only the first Planet of the Apes comic, but featured some of the best Apes artwork to be published. As an artist, Giolitti worked from numerous photos and prop reference materials provided, whilst also using files of his own collection - he was known to shoot dozens of photographs of models and props for individual comic issues he worked on.
Between 1986 and 1988, Giolitti drew a long science-fiction story, Cinque anni dopo (Five Years Later), and joined the artists team of the Italian comics western character, Tex Willer from 1989. He died in Rome in 1993.
External Links
References