APJAC International Productions was a movie production company founded in 1956 by Arthur P. Jacobs, who already headed his own publicity agency, The Arthur P. Jacobs Co., Inc.[1][2] APJAC's first production was What a Way to Go!, directed by J. Lee Thompson. The 1964 comedy was initially intended as a vehicle for Marilyn Monroe, before her death in August 1962 left the role to Shirley MacLaine, and co-starred many of Jacobs' other PR agency clients. The successful movie was followed by plans for family musical Doctor Doolittle, while the company struggled to get approval for Jacobs' pet project, a movie adaptation of Pierre Boulle's French novel La Planète des singes (Planet of the Apes). Mort Abrahams was executive vice-president and associate producer (and later producer) of APJAC's movies from about January 1966 until 1969. As Jacobs' right-hand man, Abrahams gave practical experience to Jacobs' vision and concentrated on script and production matters while his partner blazed ahead with stars and publicity. Although his title was associate producer, he hired writers and actors and in today's parlance he would simply have shared the producer credit with Jacobs, who might even have been labelled executive producer.[3] Abrahams explained that in 1963, Arthur had met with Allain Bernheim, a literary agent in Paris, who gave him the novel. Arthur was immediately struck by it and called Richard Zanuck of Twentieth Century Fox, who optioned the rights for Arthur.[4]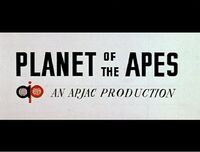 It was reported in January 1967 that Jerome Hellman Productions had merged into APJAC Productions, with Hellman and Jacobs as partners and Abrahams continuing as production vice-president. At that time, APJAC were said to be still filming Doctor Doolittle and preparing movie projects Planet of the Apes, Midnight Cowboy (a Jerome Hellman production), Choice Cuts (a Twentieth Century Fox black comedy with a James Bridges screenplay of a novel by French writers Thomas Boileau and Pierre Narcjac; the book was eventually adapted as Body Parts in 1991), Goodbye Mr. Chips (a roadshow musical for MGM), The Man Who Was Thursday (a Leslie Bricusse musical of G.K. Chesterton's novel), All the Beautiful People (from a Richard Dowling novel) and A Time of Glory (a World War I aviation adventure thriller by Charles K. Peck jr.).[5] Three months later, Fox's Richard D. Zanuck announced a fifth production arrangement with APJAC; Jacobs and Hellman had acquired a Tom Naud original story and screenplay tentatively titled Thunder Over Dahomey, the other co-productions being Doctor Doolittle, Planet of the Apes, Choice Cuts and All Night Stand.[6] While some of these projects never came to fruition and Midnight Cowboy was passed over for not being "family-friendly", Doctor Doolittle received it's world premier before Queen Elizabeth II at the London Odeon on 12 December 1967 and Planet of the Apes was filmed between May and August 1967 for a February 1968 release. The enormous success of Apes spawned a series of four further Planet of the Apes film sequels from APJAC between 1970 and 1973, as well as plans for a TV spin-off.
After acting as sole producer on The Chairman (1969) and associate producing and co-writing the screenplay for Beneath the Planet of the Apes (1970), Mort Abrahams left APJAC in order to team up with the independent producer Ray Stark. Frank Capra Jr. joined APJAC Productions around 1970, replacing Abrahams. According to Capra, Jacobs "basically did the deal making and the setup up and acted as an executive producer, and I would end up being the producer person and we had no one else working in the company."[7] Capra served as associate producer from Escape from the Planet of the Apes (1971) to Battle for the Planet of the Apes (1973), but Jacobs' refusal to credit him onscreen as anything other than "associate producer" led to an acrimonious split.[8] Publicist Jack Hirshberg was another member of the APJAC organisation. He recalled Jacobs "was a great movie fan and he made movies from the point of view of a movie fan. Like a lot of other people, he wasn't self-indulgent and figured he wouldn't do something very artyschmarty and so forth to glorify his own name. We didn't do anything dirty. There wasn't a single dirty word in anything that we did. There wasn't even a dirty plot. I suppose the closest we ever came to it was in 'Play It Again, Sam', and that was a really great comedy. There wasn't anything the whole family couldn't go to see. And that was his whole approach to movies - he had great respect for movies as the old-fashioned movie-makers made them, and whatever we did we really did it right. I think the box office results of the pictures that APJAC made testify to that. He had a great feel for what the public would accept and would buy."[4] In December 1972 Hirshberg arranged for reporter Sam Maronie to have a walk-on part in Battle for the Planet of the Apes.[9][10] This was a favourite promotional tool of Arthur P. Jacobs, and nationally-syndicated journalists Army Archerd, James Bacon and Joyce Haber were all featured in his Apes movie projects.
APJAC Productions
What a Way to Go! (1964)
Doctor Doolittle (1967)
Planet of the Apes (1968)
The Chairman (1969)
Goodbye Mr. Chips (1969)
Play It Again, Sam (1972)
Topper Returns (1973, TV pilot)
Tom Sawyer (1973)
Huckleberry Finn (1974)
Tom Sawyer and Huckleberry Finn were apparently the first two in an Americana-themed five picture deal with the prolific Sherman Brothers, who were to script and score each musical film. However, tragedy struck when Jacobs passed away suddenly of a heart attack in June 1973. In addition to producing Huckleberry Finn, he was working on a number of projects at the time; he had just made a pilot for a TV series revival of Topper Returns starring Roddy McDowall, Stefanie Powers and John Randolph; he was developing a Planet of the Apes TV series; and he was planning a full-length science fiction feature called Voyage of the Oceanauts.[11] Journey of the Oceanauts - "an odyssey of manned undersea exploration in the year 1990" - was originally announced to enter production in 1971 with a Mayo Simon (Marooned) screenplay based on the novel by Louis Wolfe, Frank Capra Jr. as associate producer, Tony Masters (2001: A Space Odyssey) as production designer and Lamar Boren (Thunderball) as director of cinematography.[12] APJAC had also optioned the film rights to the 1965 Frank Herbert novel Dune in Summer 1971. The project was delayed while Jacobs completed other projects, including the Apes films, but David Lean and Charles Jarrott were considered as director and Robert Bolt, Robert Greenhut and Rospo Pallenberg as screenwriter. Filming was scheduled to begin in 1974 with a $15 million budget, and storyboards, set design and other pre-production work began, but with Jacobs' death the project was abandoned and in December 1974 a French consortium purchased the movie rights from Jacobs' estate.[13]
Arthur Jacobs' widow Natalie Trundy - who was filming Huckleberry Finn on location at the time of his death - assumed directorship of her late husband's film company, and APJAC Productions sold all rights and privileges of the Planet of the Apes adventures to Twentieth Century Fox, choosing to concentrate on future projects.[14] Fox completed Jacobs' plans for a Planet of the Apes TV series the following year.
References
---